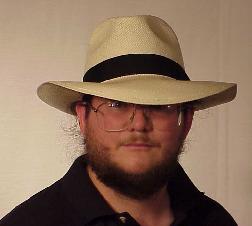 He was born in Reading on Jan 27th 1968. He thereafter lived in nearby Woodley, until moving out of his parents' house and into a home of his own, which placed him back in Reading.

Of the other members of his family, his father is a lecturer in the department of Computer Science (of which he is the founder and former HOD, now semi-retired) at Reading University; his mother has taught at both the University and the local primary school; and his younger brother Carl works in computer sales. None of them have their own web pages.
He was educated at Willow Bank primary school and Waingels Copse comprehensive school, then spent two years doing an HND in Computer Studies at Leeds Polytechnic. He now works at Reading University.
He doesn't like chocolate very much.
As a child he fell out of a car [1] and broke his arm. During the subsequent tests he was diagnosed Growth Hormone Deficient, a condition which would not have been treatable had it been identified much later. There followed several years of injections of replacement hormones, as a result of which he successfully avoided actual dwarfism and is now of a height which can best be described as spectacularly average.
His parents are both Methodists; his father was a local preacher for many years before becoming a fully ordained minister in 1993. He himself is an atheist.
Anagrams of his name include: "Nodding Area", "A God In A Nerd", and "Groan And Die". His favourite anagram of his full name is "No Halo And In Disgrace".
He has, over the years, acquired many nicknames, including: Oggie, Huggy, Hugs, Idris, Drain-Man, Milhouse (after the Simpsons character), and - following the recent arrival of the beard - Denzil (after the hippy american scientist character from The Fast Show, Denzil Dexter.)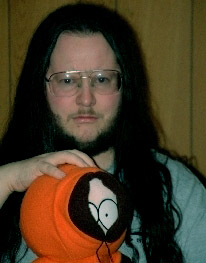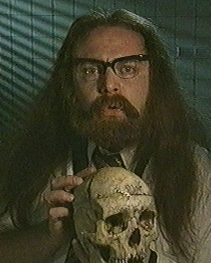 His highest ever score at ten pin bowling is 144.
He is an avid lover of music, both as a listener and a performer. In this regard he probably takes after his parents, although his tastes in music tend to confound them. Actually they confound a lot of people, not least his bandmates.
His first ever rock concert was Status Quo in 1984. He has no regrets about this, as they were still a damned good band back then, though it is notable that from that point on his tastes got steadily weirder.
He enjoys reading and science fiction, preferably combined.
He is not, in any way, shape, or form, an anorak.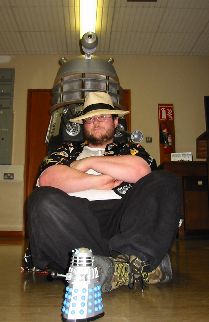 He has a total disinterest in football.
The greater part of his clothing is black. But not remotely gothic.
His favourite word is ectoplasm, although he doesn't get to use it much.
It was a total lie about the chocolate.


---