---
I'm currently in three different bands:
Run Like Hell
Run Like Hell play the music of Pink Floyd, plus other stuff from the same era, including bits of Deep Purple, Genesis, Led Zeppelin, etc.
I joined them in the autumn of 2008. They were the first band I'd ever had to audition for (everything I'd done previously was with people who already knew me), and also the first band I was involved with after shattering my elbow in a cycling accident five months earlier. I was still finding out whether I could still play, but I seized the opportunity to finally tackle some of the classic rock and prog I'd grown up with but never performed.
Swallow
Swallow's lead singer was then also the singer in Run Like Hell, so when Swallow's drummer left in the autumn of 2009 I got the call. Swallow are a more straight-ahead hard rock band than Run Like Hell, and play a broader mix of rock and pop, clasic and contemporary. And having got my first taste of playing prog with Run Like Hell, Swallow finally gave me my chance to play my first and foremost influence: Rush!
Syn City Rockers
And a year after that came the Syn City Rockers. This had its origins several years earlier when a singer-guitarist friend of ours emigrated to New Zealand. To give him the chance to play a farewell gig we put together a set of AC/DC songs - on the grounds that they'd be easy to learn quickly - and did two gigs under the name Those About To Rock. And one more when he returned for a brief visit a year later.
After a while the remaining guys decided that it had been a really fun thing to do, and why didn't they keep doing it? And so they did, spicing up the AC/DC with a selection of Thin Lizzy, with a new singer and (sadly) a new drummer. But when he left it was only natural that I reclaim my place.
They started out as Jailbreak before becoming the Syn City Rockers. Interesting fact: both AC/DC and Thin Lizzy have songs called Jailbreak and The Rocker. (And also Baby Please Don't Go, although the AC/DC one is a cover of a song from the sixties.)
---
And here's more of my band history.
Loose Tourniquet
My first ever band, with whom I played from 1988-1994. I first discovered my love of drums on a neighbouring kid's drumkit, and it was he who went on to form Loose Tourniquet while still in school. I took his place a few years later and we began to terrorizeplay on the local pub scene.
They were the only originals band I've ever played with. And I'm now working with the guitarist again in Syn City Rockers.
The Briefcase Blues Brothers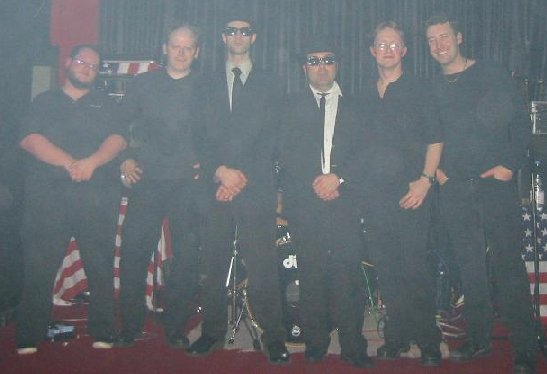 I got the call to join Mario in The Jansons in June 1994. Maz knew me from having provided PAs for Loose Tourniquet, though it wasn't until he called me that I knew he played in bands too. The three-piece Jansons were essentially a pub covers band, and tended to be anarchic rather than slickly professional. Having taken that as far as we could we recruited some extra musicians and put together something more serious; a series of names and lineups to play club gigs and as function bands. The first of these, and thereafter the mainstay, was The Briefcase Blues Brothers. With a backing band consisting only of guitar, bass, drums and keyboards, they're more rock-based than the classic film lineup, but with a horn section when requested, and it sounds wonderful!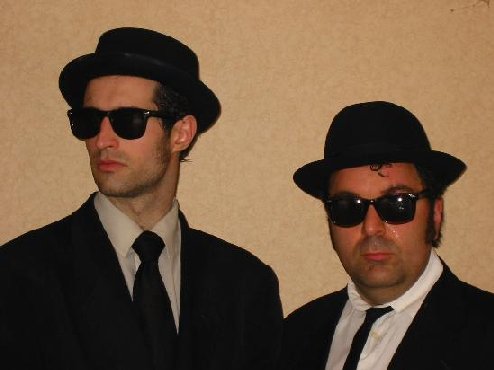 X-sTatiC were a tribute band to Swindon's Finest, XTC.
Since retiring from live performance just as they were on the verge of becoming a major name in 1982, XTC have continued to produce albums of lovingly crafted music to the delight of a small core of devoted fans and the complete ignorance of the greater public. X-sTatiC aimed to remedy this deplorable situation, or at least to have a great deal of fun trying.
X-sTatiC was put together by Dan, who I met in the Briefcase Blues Brothers. When he first put X-sTatiC together he did so with himself as the drummer, but as it progressed he became more interested in being the guitarist and frontman, and when he discovered I was also a fan he saw an opportunity to do exactly that. We made our live debut at the Hope And Anchor, Islington, on September 21st 2002, and played our final gig at a convention of XTC fans from all over the world in the band's hometown of Swindon in 2005. Musically X-sTatiC was probably the most demanding gig I've ever had; but between the emotionally charged performances and the enormous warmth of the audiences it was also far and away the most rewarding.