Andrew Glennerster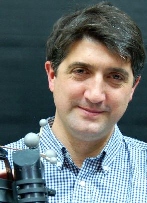 Professor of Visual Neuroscience

Phone: +44 118 378 5554
Fax: +44 118 378 6715
Address: School of Psychology and Clinical Language Sciences, University of Reading, Reading RG6 6AL
Satnav postcode: RG6 7BE
Email: a.glennerster 'at' reading.ac.uk
Room: 1S22




I study human vision, particularly 3D vision. My main interest is in how the visual system could represent the shape of surfaces and the layout of a scene when the observer is free to move. I trained as a doctor in Cambridge and studied stereo vision for my DPhil in the Psychology department at Oxford.



I head an Immersive Virtual Reality Laboratory at the University of Reading to study spatial perception and motor control in freely-moving observers.

Current lab members: Alex Muryy, Luise Gootjes-Dreesbach, Stuart Gilson, Mark Adams

Collaborators and previous members: Peter Scarfe, Jenny Vuong Ellen Svarverud, Lyndsey Pickup, Andrew Parker, Suzanne McKee, Brian Rogers, Andrew Fitzgibbon, Miles Hansard, Tim Andrews, Yury Petrov, Maarten Hogervorst, Lili Tcheang, Sam Solomon, Jenny Read.



Some recent publications (more):




Feel free to join in a conversation about the brain on this wiki.