Introduction to haptics and haptic technologies
W.S. Harwin, University of Reading - Nov 2015
This material available on the internet from page http://www.reading.ac.uk/~shshawin/LN/ and then follow the Haptic devices link .
Haptic companies on the stock market
Haptic device design guidelines
Large mass is a problem as device then needs large forces to accelerate and decellerate the mass
structural vibration is a problem. To emulate high stiffness requires a stiff structure, but mass needs to be reduced and this can result in vibration modes in the haptic device.
High numbers of degrees of freedom are a problem. For each degree of freedom it is necessary to provide actuators and controllers, plus it becomes increasingly difficult to transmit power through a series of links to the point where the forces are needed.(see Harwin doi 10.1109/86.372887 for more details)
Parallel mechanisms may be the answer but often a parallel mechanism has a smaller workspace, limiting the realism of the haptic interface.
System stacking, An intelligent vibrotactile device on a back drivable device on an admittance device!
Exemplars
--------------
Other examples of haptic interfaces are in the haptics gallery
---------
Magnetic levetation
kinematics = maglev
active Dof = 6
weblink = www.butterflyhaptics.com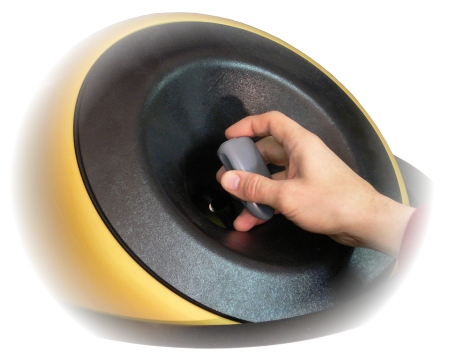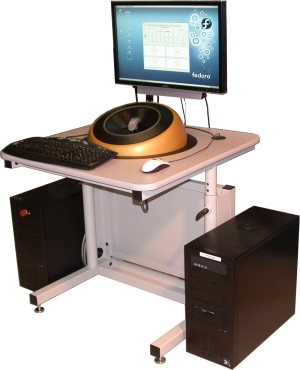 kinematics = maglev
active Dof = 1 (+3 Phantom)
weblink =
--------
Linkages - Commercial
kinematics = RRR (Phantom based)
Active DoF = 3
weblink = www.reachin.se
https://www.youtube.com/watch?v=ZvOXyOhZVIM http://www.geomagic.com/en/products/sculpt/overview
kinematics = PPPRRR
active DoF = 6
kinematics = RRR?
weblink www.haption.com
Youtube

6 Dof Pen like interface kinematics = RRRRRR

mpb-technologies, Canada
kinematics = RPP
active DoF = 3
weblink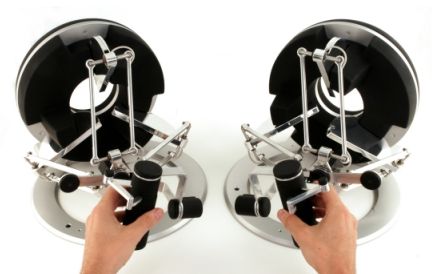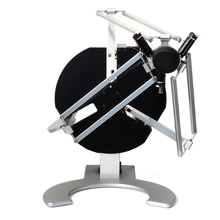 --------
Novint Falcon
kinematics = Parallel (Forcedimension based)
Active DoF = 3
weblink = www.novint.com
Linkages - Research
kinekmatics = ((RR)(RR))((RR)(RR))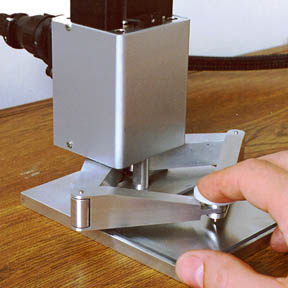 (doi=10.1109/TOH.2009.5)
--------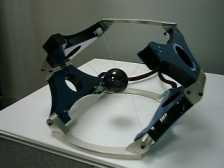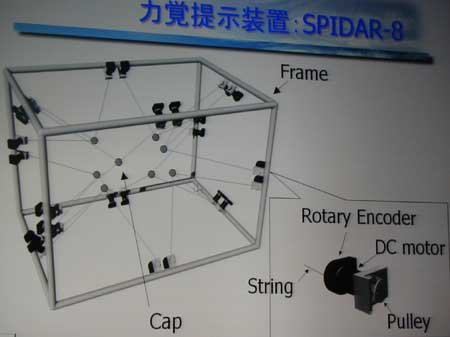 Microsoft sidewinder
--------
Exoskeletons and powered orthoses
Cobots
Medical simulators and telerobotics masters
Dr Vincent Luboz and Dr Fernando Bello
Multi finger
joint repeatability 1degree
Max force = 12 N
kinematics= ungrounded
weblink www.immersion.com
weblink
Encounter haptics
--------
Tactile
AR-tracking.com
Surgical robotics with haptic feedback
Sculptor RGA (Robotic Guidance Arm)
Comparison of Performance
| | | | | | | |
| --- | --- | --- | --- | --- | --- | --- |
| Product | DoF | Fmax | Fcont | Stiffness | Median Workspace | Endpoint inertia |
| Freedom cubic | 3 | 2.5N | | | 290mm | |
| Omega.x (Force dimension) | 3 | 12N | 12N | 14.5N/mm | 110mm | |
| Falcon (Novint) | 3 | 9N | | 8N/mm | 100mm | |
| HapticMaster (FCS-Moog) | 3 | 250N | 100N | 50N/mm | 360mm | 2000g |
| Omni (Sensable) | 3 | 3.3N | 0.88N | 1.26N/mm | 120mm | 45g |
| Phantom 1.5 | 3 | 8.5N | 1.4N | 3.5N/mm | 267mm | 75g |
| Quanser Mirage | 3 | 100N | 25N | 2N/mm | 300mm | 300g |
| Quanser planar | 2 | 10.1 | 3.1N | | 270mm | |
| Quanser wand | 3 | 9 | 3N | xx | 420mm | xx |
| Virtuose 3D15-25 | 3 | 15N | 5N | 0.8N/mm | 250mm | |
| Virtuose 6D35-45 | 6 | 35N | 10N | | 450mm | |
| Virtuose 6D40-40 | 6 | 100N | 30N | | 400mm | |
| Maglev 200 | 6 | 40N (3.6Nm) | | 50N/mm (5.1 Nm/deg) | 24mm /8 deg | 510g |
| Entact W5D | 5 | 4N (.112Nm) | 1.4N | 10N/mm | 135mm /50 deg | 42g |
Ungrounded and Vibrotactile
http://www.reduxst.com/products/
http://www.tactustechnology.com
http://tacticalhaptics.com
s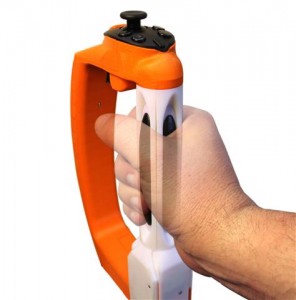 s